Early last week when Verona Area High School senior Jackson Acker looked at the forecast for the WIAA Division 1 state track and field meet scheduled for Saturday, June 26, he noticed the likelihood of rain.
Verona's throws coach John Campbell and Acker took to the practice area in Verona, wetting the throwing circle and having the UW-Madison football recruit practice with a wet discus.
The extra preparation appeared to pay off on Saturday, with Acker winning the event with a throw of 183 feet, 9 inches during a downpour at UW-La Crosse.
"I'm really glad we did that," Acker said of the practice. "It's not ideal record setting weather, but it's good winning weather. It's something we prepared for."
After his first discus throw went out of bounds, he responded with the day's two longest throws in his next two turns. The event was one of two championships for Acker on the day, as he also won the shot put with a throw of 57' 2.75".
Campbell said he thought it was important for Acker to practice in wet conditions because the concrete circle for throws at UW-La Crosse is different than most of the ones Acker throws on during the season and can be more slippery when wet.
He found a similar concrete surface, brought bottles of water and had Acker try on six pairs of throwing shoes until they found the shoe that was most resistant to slips and getting too wet.
Acker has had his sights set on gold medals since before the season began, he said. He decided to stay in Verona instead of moving into the dorms at UW-Madison early so that he could compete for a state championship.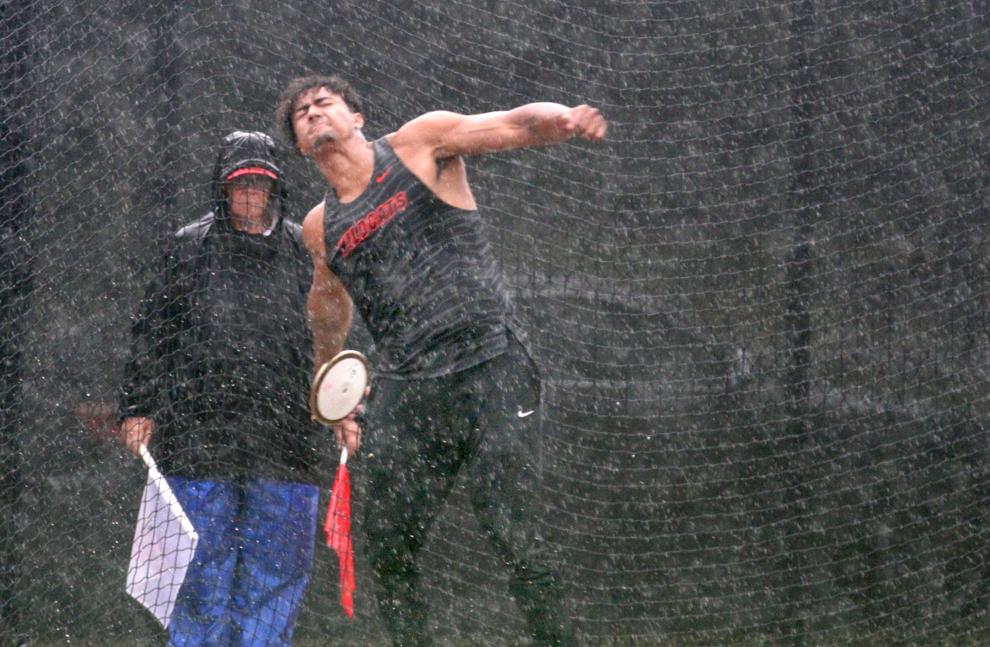 "This is exactly what I wanted to happen," Acker said. "That's why I stayed, why I didn't move in early. I just wanted to finish up my senior year and make something special happen."
His coach, Joff Pedretti, said Acker's performance was just that. The senior's shot put event was especially impressive because he wasn't the favorite to win, Pedretti said.
"He wasn't even the favorite," Pedretti said. "The guy from Kimberly (senior Quinten Wynn) who got second, he was leading the state all year in the rankings. He was coming in as the number one seed, he's thrown farther than Jackson all year. So that one, Jackson was going to have to have the best shot put day of his season in order to have a chance. And he did."
His throws coach wasn't surprised to see Acker perform well, adding that the program is losing one of the best athletes its ever had.
"He's fun to work with, super coachable, teachable, very intelligent, and comprehensive," Campbell said. "There are the guys who comprehend what you're doing, but can't get their body to do it because some of the movements are pretty complex. But Jackson, he just put stuff together."
The Wildcats finished fourth as a team with 28 points.
Junior Aidan Manning placed fourth in the 1,600-meter run and 12th in the 3,200-meter run, and Acker joined seniors Stanley Maradiaga and Graham Stier and freshman Michael Valichka to place sixth in the 400-meter relay.
Manning earned a personal record (PR) in both of his events. His mile time of 4 minutes, 15.86 seconds was the "perfect" ending to his junior season, Pedretti said.
It was the second-best finish in the event for a Verona runner at the Division 1 level (second place in 1999) and was also fast enough to break his own previous school record.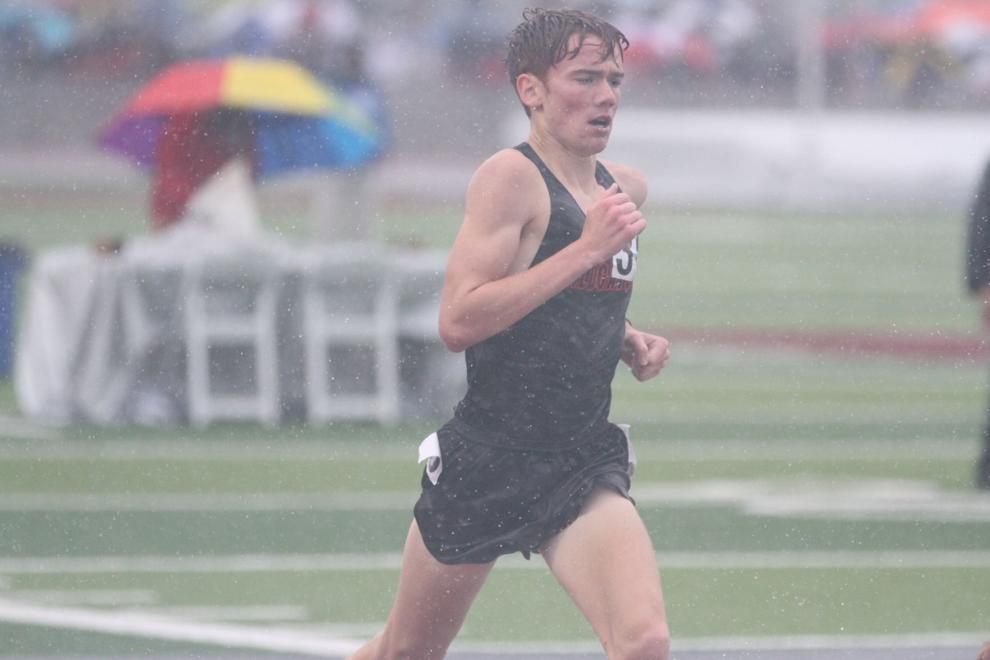 The 3,200-meter run was difficult because the field was very competitive, and some of the top runners hadn't already competed in the 1,600-meter event like Manning did. In most years the events are more spread out, Pedretti said, so that could bode well for Manning if that model returns next year.
"It was a good learning experience for him. It helps that he's a junior, so he's back next year," Pedretti said. "Now he knows what it's like to compete at that level in two races, and the hope is that next year things start getting even closer to normal, we go back to a two-day state meet and he's got more time in between races."
The 400-meter relay team also made the podium, finishing sixth. The Wildcats won their heat with a time of 43.96 seconds. In a typical year, the top five teams from each heat would qualify for finals the following day, but this year only one run was conducted.
It was enough for sixth, which Pedretti was impressed by, especially from the eighth lane of the track.
"They were really happy with that. I was wishing the conditions were better so it could have showed up in their time too," he said.
The Wildcats were tied for second place with one field event and one running event left in the day before sliding back to fourth. It's the highest finish since Verona won the state championship in 1999 and the second-highest since the team moved to Division 1 in 1993.
And like Acker said, the Verona coaching staff liked seeing the strong performances despite rain, too.
"One of our coaches often says, 'Hey, this isn't PR weather, but it's winning weather. Other guys are gonna check out so let's stay focused and move up a couple slots.' And I think we definitely saw that," Pedretti said.
"It was just an awesome state performance."