For Vicki Gentz, of Vicki Cookies in Fitchburg, the hours may be long – but the rewards are as sweet as the treats she crafts.
Working with three ovens in her kitchen in the Fahey Fields neighborhood near McGaw Park, the home-based baker of royal-iced sugar cookies has turned a part-time hobby started in 2008 into a full-time business with a three-month backlog of custom orders.
Taking a break recently, Gentz told the Star in an interview that 60-hour weeks are common. But that comes with the job as she bakes and hand-decorates cookies with intricate, often custom, designs. Themes range from holidays and sports, to family events, kid-friendly unicorns and dinosaurs for birthdays, and even pop culture tributes, such as her recent batches featuring Ted Lasso.
If you can dream it, Gentz can probably bake it, she said, drawing from her assortment of "thousands and thousands" of cookie cutters that she catalogues in basement storage, along with dozens of themed stencils for line art and background patterns.
Some might find it overly laborious to invest 10 to 15 minutes per palm-sized cookie, using hand-piping and airbrushing techniques to apply edible icing in minute detail.
But to Gentz, 44, it's all worth it, especially when seeing the smiles on customers' faces when they pick up their orders and see the finished product.
"It's so emotionally rewarding knowing that I'm creating something that people are taking to their big celebrations, their baby showers, their weddings," she said. "That's really what it's about for me: helping to add a little bit of joy to people's celebrations and their day-to-day."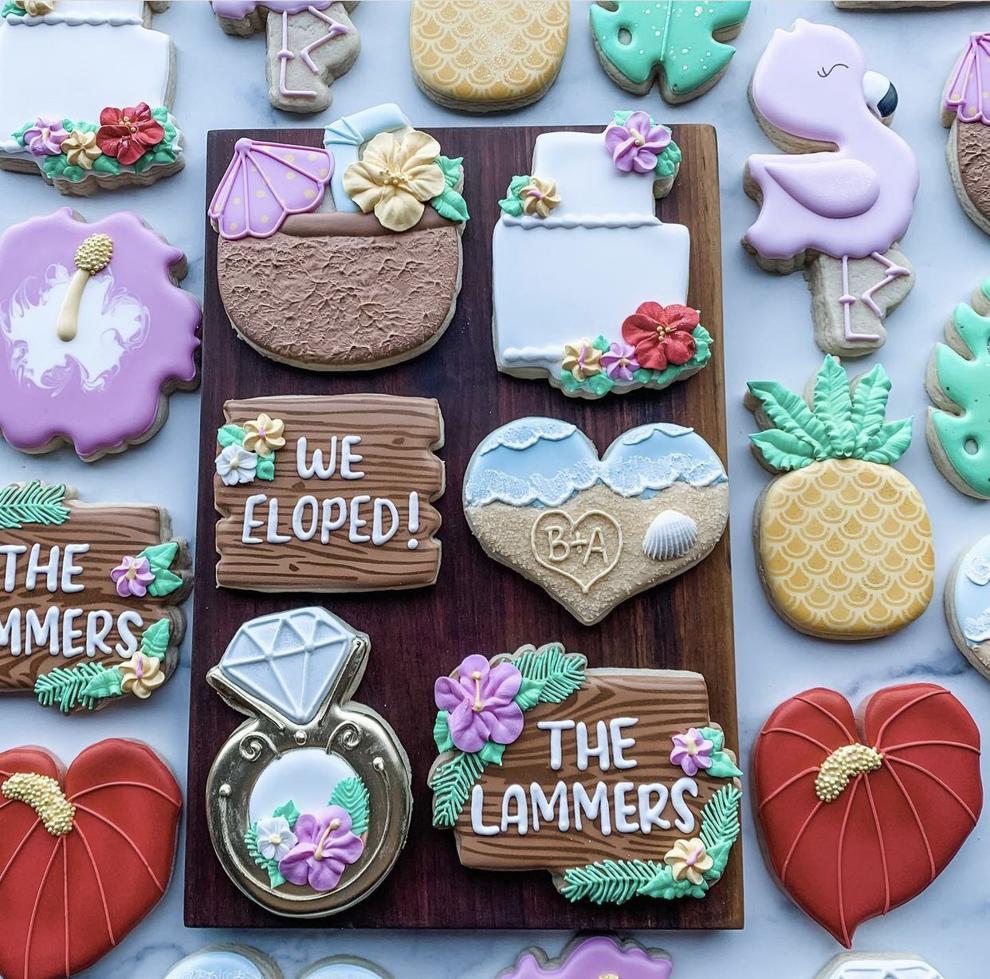 For example, during the early days of the COVID-19 pandemic and related quarantines, Gentz said her business really ramped up.
"People were looking for little gifts that they could leave on their neighbors' porches," said Gentz, to let them know, 'we're thinking of you, we're connected, and we care about you.'
"I got all sorts of sweet messages from customers" in return, she said.
Gentz said she has always loved baking and creative arts, even as a kid, and eventually took cake-decorating classes at a local craft store. Cake-making proved to be a little too stressful, so she instead dug into cookie baking, delivering her first batch of cookies for a friend's baby shower in 2008.
"Everybody was encouraging me that I needed to start selling my cookies," said Gentz, but Wisconsin state law did not permit sales of home-based bakery at that time, and renting commercial kitchen space was cost-prohibitive.
However, a Wisconsin District Court ruling in Lafayette County in 2017 struck down the ban on selling home-baked goods, making their sale directly to customers in Wisconsin legal in October of that year.
That's when Gentz started selling her wares part-time, mainly to family and friends, even while continuing to work full-time for a start-up company that did software installations at hospitals around the country.
Gentz said she started her website in 2018, but gained the most traction with a Facebook business page that now boasts 4,000 followers. Her Instagram page, @vickicookiesbakery, has 3,000 followers, where Gentz said she posts dozens of photos of cookies, helping to keep customers up-to-date on offerings.
In 2019, through her success, Gentz said she was essentially working two full-time jobs, "baking basically every spare minute." That led to a crossroads to either scale back the cookie business or commit to it full time. After careful thought, Gentz said she opted for home-based cookie-making, stepping away from her 9-to-5 job in November of that year.
Gentz described her product as royal-icing decorated sugar cookies. Royal icing dries hard so that cookies can be stacked and bagged, without sticking together or squishing like cake icing, she said.
Gentz said her signature cookie is a vanilla sugar cookie, but lately she's been working with other fun flavors, too, including pumpkin, apple cider and a brownie-like chocolate.
Then there's her new strawberry cookie, "loaded with a ton of freeze-dried strawberries" for a natural strawberry flavor. 
"People were going crazy over that this summer," Gentz said.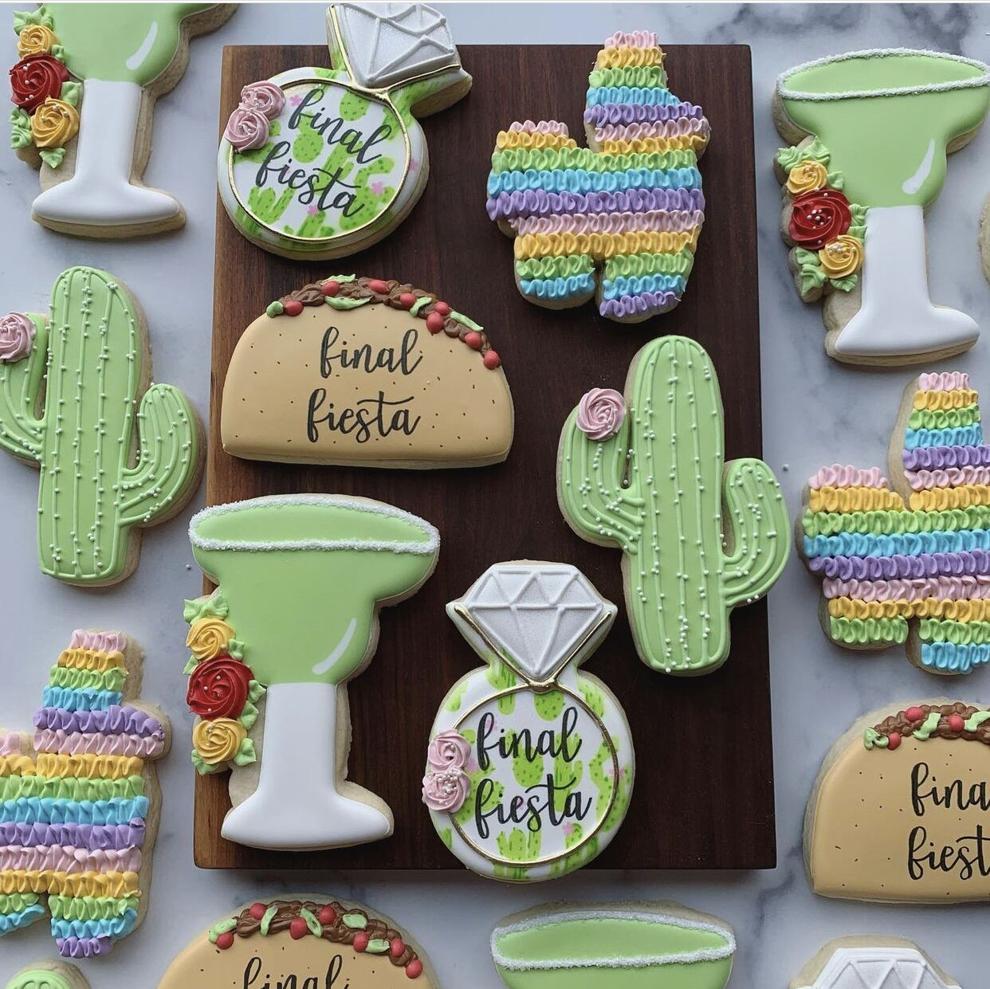 In addition to custom orders, ranging from a few dozen for birthdays to 150 cookies for a wedding, Gentz said Vicki Cookies are available for pick-up through seasonal holiday orders and by walk-up purchases at artisan markets in the Madison area. Prices range from $4 to $5 a cookie, depending on complexity.
In addition, while her cookie-decorating classes have been on-hold during the pandemic, Gentz said she aims to resume those classes later this year, working with area bars and restaurants for suitable preparation space.
Gentz said she bakes solo today and is about maxed-out on what she can produce herself, given the labor-intensive process. While she is considering adding staff to help bake and make icing, Gentz said she recognizes the difficulty in hiring people into a home-based business.
"I've got to figure out where my growth is going to be next," said Gentz.
Meanwhile, she'll continue to pursue what for her is a true labor of love.
"You know they say, when you do something you love, you don't work at all," Gentz said. "But it's more like, when you do something you love, you work all the time.
"You definitely have to love it," she added. "You're not going to be a millionaire making decorated cookies. But it's a passion."